Rose Fragrance Application Instructions
AFTER THE PURCHASE OF YOUR ARRANGEMENT, WAIT AT LEAST ONE MONTH BEFORE ADDING ANY ROSE FRAGRANCE TO YOUR ROSE(S).
To begin, move your arrangement to a non porous surface so it is easy to clean up if there are any spillages. (but please try to avoid this)
Apply one - two drops into the centre of each rose no sooner than once a month or when you feel they need a fragrance boost! (over scenting can lead to the roses appearing wet and reducing their lifespan, so please use with care!)
If you have a diamanté in the centre of your roses, you can gently part some central petals and place the scent low into the rose (please be careful when parting the petals as they are fragile and can break)
Things to remember when using our rose fragrance
Avoid getting any of the scent on the outer box as it will show.
Avoid Spilling any of the rose fragrance on porous surfaces as this can stain or leave a mark. If you do spill any, we recommend removing it immediately to prevent any soaking in.
Only use our rose fragrance on Eternal Blossom Roses.
Please keep away from your eyes, if you get any in your eyes, wash out with water immediately.
Avoid getting rose fragrance on your skin, if you get it on your skin wash with water immediately.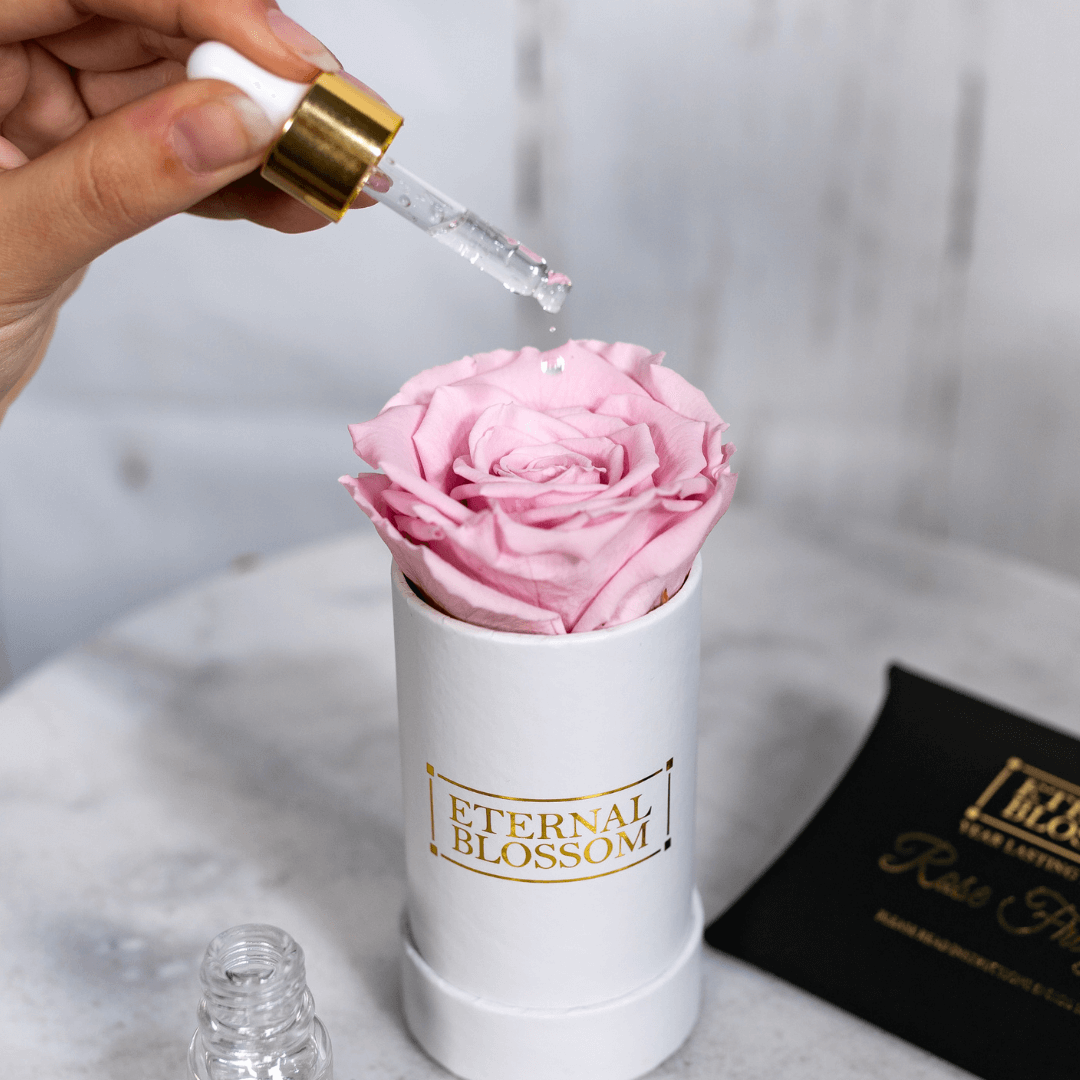 PLEASE REMEMBER THIS IS NOT A TOY. KEEP AWAY FROM CHILDREN AND ANIMALS. PRODUCT IS NOT EDIBLE. IF THE ROSE FRAGRANCE IS SPILT, ETERNAL BLOSSOM CAN NOT BE HELD RESPONSIBLE SO PLEASE BE CAREFUL DURING USE.